1. Kaffeine Espresso Bar
There's no better way to start a chilly fall morning than with a warm drink, especially at Kaffeine Espresso Bar in Bathurst. This cozy café is the perfect place to catch up with friends over delicious drinks, or sip your coffee while looking out the windows onto Main Street.
[Kaffeine Espresso Bar]
Kaffeine serves up delicious specialty coffees, made with beans from Atlantic Canadian craft roasters. While you're here, be sure to try some of their seasonal menu drinks for a true autumn experience, and pick up some sweet treats, such as cupcakes and macaroons, made by Shannon Doucet of Lekker Bakery!
2. Auberge d'Anjou-Cocooning Café
Breakfast is the best meal of the day, especially if you're having it at Auberge d'Anjou-Cocooning Café in Petit-Rocher. Here, you can pair a delicious latte with a fresh breakfast, such as waffles or an omelette. If you're here in the early afternoon, they serve a tasty lunch too!
[Auberge d'Anjou - Cocooning Café]
The warm and welcoming atmosphere makes this a great place for a fall brunch. Plus, don't forget to grab some homemade treats to take with you!


3. R&J Boulangerie Artisanale
There's no better fall comfort food than fresh baked bread. R & J Boulangerie Artisanale, located at La Promenade Waterfront, is a charming bakery offering a variety of delicious products such as fresh breads, croissants, and chocolatines.
[R & J Boulangerie Artisanale]
Graduates in French cuisine and bakery, the owners prepare top quality homemade products that are a must-try when visiting the region.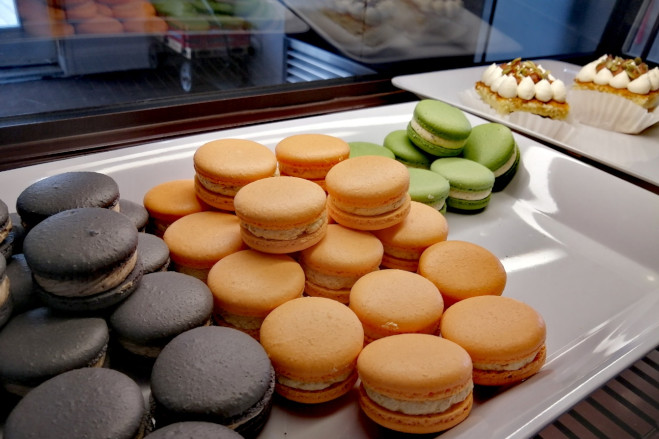 (Photo credit: Boulangerie R and J Bakery on Facebook)
Friendly tip: R&J is a favourite amongst locals, and they usually sell out early! Be there first thing in the morning to enjoy all of their products.
4. Big D Drive-In
No matter what season you're here, you can't visit Bathurst without trying the ultimate Chaleur region classic - a Danny Burger. You can find them at Big D Drive-In, the only remaining restaurant in New Brunswick of its kind!
[Big D Drive-In]
This family friendly takeout spot is a unique and delicious dining experience. Pair a Danny Burger with one of their milkshakes for the perfect drive-in meal.
5. Fresco
If you're craving an upscale dining experience, look no further than Fresco! Located in downtown Bathurst, this fine dining restaurant features a varied menu of dishes made with fresh local ingredients.
[Fresco Kitchen]
This classy dining room is the perfect spot for a date night!
6. V13 (Pizza13 / Vino)
Pizza and wine more your style? You can get both at V13! This chic bar and pizza restaurant combines the Pizza 13 restaurant and Vino wine bar, and is the ideal place to sit in for a tasty bite and to sip some drinks.
[Vino Wine Bar]
They have a wide selection of homemade thin crust pizzas and wines. Their pizzas are made by chef Antoine, who moved from France to Bathurst and wants to share his passion for quality and fresh pizzas.
[Pizza13]
7. 13 Barrels Brewing
On chilly nights, cozy up by the fireplace at 13 Barrels Brewing. Or, catch a beautiful sunset over their magnificent view of the Bathurst Harbour. This family-owned brewery has a large, pet-friendly tasting room, and a wide selection of new and innovative beers.
[13 Barrels Brewing]
If you love what you try, you can take some home too! 13 Barrels products are sold in cans, or you can fill up a growler.
8. Four Rivers Brewing Co.
Located within walking distance is another great brewery, Four Rivers Brewing Co.. Specializing in approachable and great tasting beer, this an ideal location to try some local flavours.The spacious tasting room offers a view into their production facility, perfect for any craft beer enthusiasts.
[Four Rivers Brewing Co.]
Want to keep trying their craft brews? Four Rivers' products can be purchased in cans or growlers so you can keep enjoying them later on!
Conclusion
Sometimes, the best parts of a trip are the flavours you try along the way. These are only a few of our favourites, so head to our list of great places to eat in the Chaleur Region.
Grab a bite. Take your time. Fall in love.