In the Chaleur Region, you'll find over 280 km of quad trails during the winter. That number quickly blows up to over 400 km once the trails are all cleaned up in the spring.
We're talking over 400 km of the most scenic parts of one of the most picture-perfect provinces in the country.
Here, you'll get to experience the real raw nature of the Chaleur Region.
Hit the trails alongside the majestic protected natural area that is the Jacquet River Gorge and discover its splendid scenery.
[Jacquet River Gorge]
Ride the unique splendours of the inland with its many lakes. Hit the coastal paths between Bathurst and Pokeshaw to add a taste of the Atlantic Ocean to the riding experience of a lifetime.
However, the ride is "only" one part of a fantastic experience that our region has to offer.
On the menu after a day's ride: delicious culinary experiences, microbreweries and a warm, friendly welcome at our many hotels and cottages. For you, the quad fanatic, it's an endless pool of possibilities that will upgrade your experience from a simple trail outing to a full-out adventure.
Getting ready
"Roads?! Where we're going, we don't need roads!"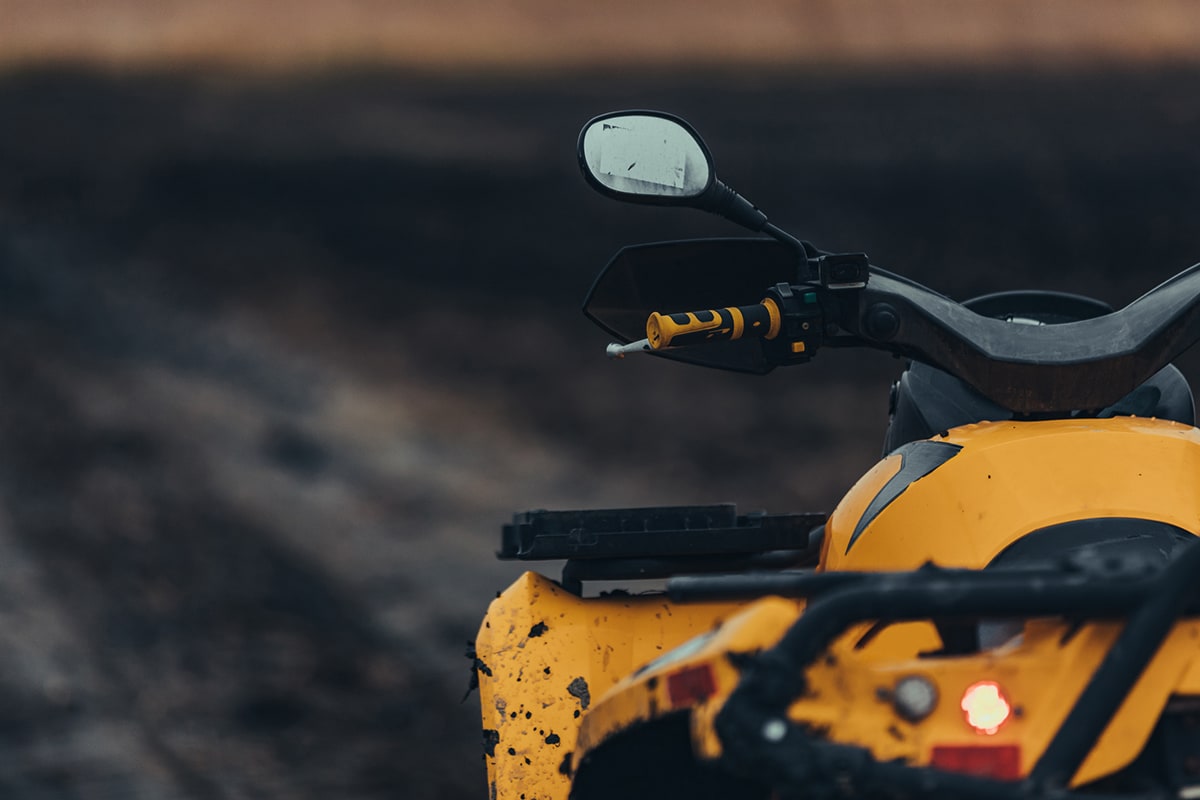 (But you will need a few things to ride these excellent quad trails legally!)

Here's a breakdown of what you'll have to secure before heading out:
Registration. You're probably already aware of this, but all off-road vehicles must be legally registered before hitting the trails. Be sure to check your registration documents!
Valid insurance. Another (essential) no-brainer.
Trail Permit. Any quad on a New Brunswick managed trail requires a trail pass to be permanently attached and visible. Quad NB Trail Permits vary in price depending on the type of trail you're aiming for, and the age of the operator.
Safety Training Certificate. This one is only for people supervising youth operators, or for those under the age of 16. The certificate covers basics such as rules, signalling, sharp turns, riding over obstacles, and more.
Once everything is in order, you're ready for a worry-free adventure!
Quad-friendly places to stay
To take on the complete off-road experience, we recommend extending your stay to a few days in the Chaleur Region.
An extended stay means you'll need to find your home away from home. A sanctuary where worries aren't allowed, and where you know you will be treated right.
We've gone through the process and picked out two top-notch quad accommodations for you to consider while you're in the Chaleur Region.
1. Atlantic Host
The Atlantic Host is a renowned property, newly under the Trademark Collection by Wyndham banner and a 4-star Canada Select-rated property that offers modern comforts, full-service amenities and a friendly bilingual staff. They're famous for their hospitality during the snowmobile season, and this stays true for the many quad riders passing through.
[Atlantic Host Hotel]
This year-round experience with the local trail scene shows in the many quad-centric services they offer. Here, you'll find loading ramps, heated repair bays, pressure wash and even fuel on-site.
In the morning, you will want to get your own "fuel" by feasting on their excellent breakfast. The Host is a favourite of both locals and tourists, famous for having some of the best (and most affordable) breakfasts around.
After a full day of adventures on the trails, grab a quick appetizer in the lounge, dive into a 3-course meal paired with a bottle of wine, relax in the pool, order up room service, or retreat into a cozy corner for a nightcap.
It's easy to understand why their slogan is "Always the perfect Host!".
Don't just take our word for it!
Amy N, fellow trail fanatic, had this to say about the Atlantic Host in her TripAdvisor review:

"Love staying here to get on the Trails. Very friendly and courteous staff. Great food. Clean and very accommodating. The rooms are cozy and affordable. Great access to the trails in the Winter. The hot tub and pool are very spacious and never over packed. The bar serves a great app menu and the specials of the day are well worth the money and well prepared and presented you eat every bite."


2. Danny's Inn
In Beresford, Danny's Hotel Suites & Events Centre is a prime destination for quad enthusiasts.
[Danny's - Hotel - Suites - Events Center]
This spacious hotel, located directly across from trail #19, combines a relaxing 5-acre property with top-tier personalized service. From their heated outdoor pool and fitness center to the events center and restaurant, everything has been designed to provide everything a modern adventurer could seek.
Guests can even enjoy complimentary shuttle service to and from nearby businesses and attractions, something that comes in handy when you just arrived on your quad.
Speaking of which: they offer a special quad package deal to make your trip even more worry-free. You'll enjoy a newly renovated garage with a loading ramp, free laundry, and all three meals included!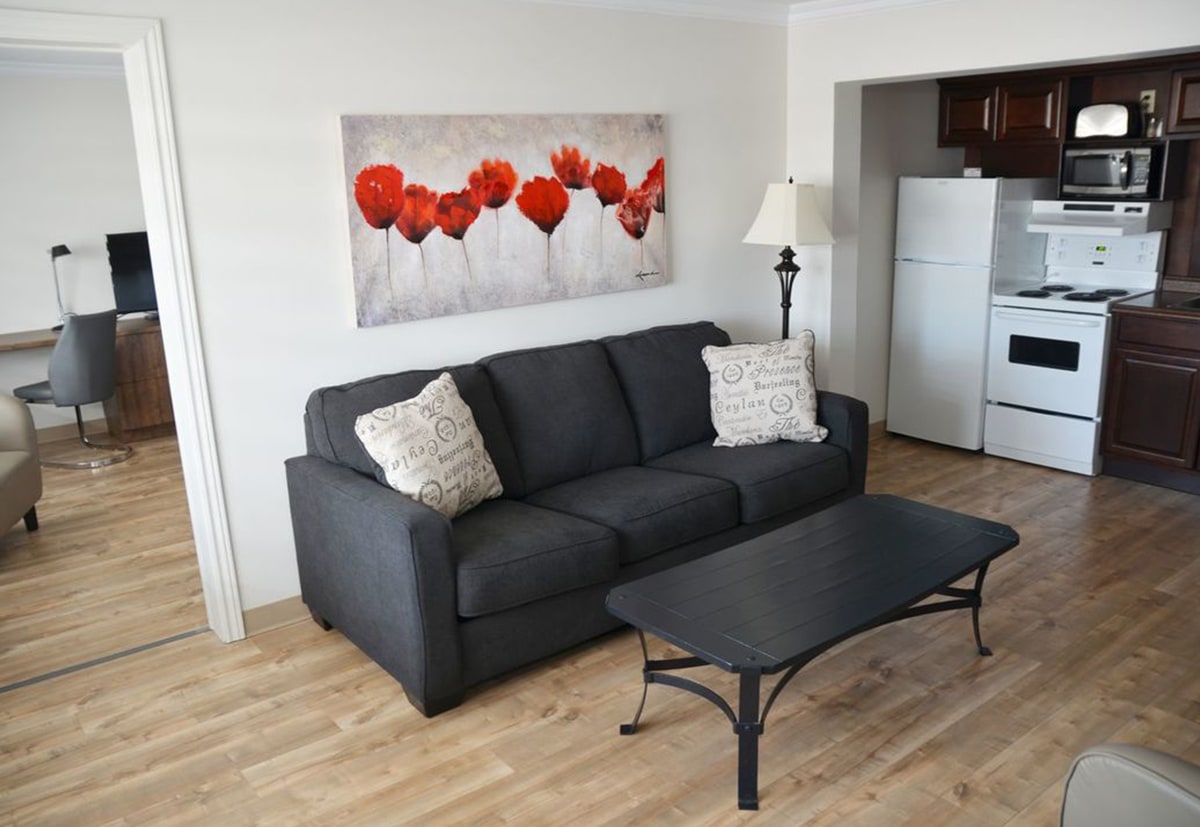 Savour hearty comfort food dishes like their chicken brochette, lobster rolls and their signature Danny Burger in the Restaurant and Lounge. Take it easy in the garden area, or kick back on the poolside patio.
Here's what Steve Ramsay left on TripAdvisor regarding his stay at Danny's Inn:
"Back from another amazing stay at Danny' s[...]have been making several trips to Bathurst per year to enjoy snowmobile trails, and they never disappoint. Food was great, and accommodations were as well...but the stand out has always been the people!"
Time to hit the trails!
You're all settled in, trail pass in hand and a place to rest your head after the ride.
Now, it's time to get down to business.
To help you get started, we reached out to Jacques Ouellette, Development Coordinator for Quad NB. A true trail fanatic, he knows the trails like the back of his hand.
Here are 3 quad loop suggestions he shared with us:
Loop # 1: Salmon Barrier Showdown
(1 day, including return trip)
After a good night of sleep and a hearty breakfast, it's time to leave the den and attack the trails. The best direct departure spots for this loop are Danny's and Atlantic Host.
Head towards Madran cutting through the Chaleur Region beautiful LSD's (Dunlop – Robertville – Sormany - Nicholas Denys).
That majestic ride finally lands you at the Salmon Barrier in Jacquet River. It's a great spot to stretch your legs, check out the scenery and, if you packed a lunch, enjoy a little picnic.
[Jacquet River Salmon Barrier]
Now the choice is yours, head back the way you came or tear up a NEW trail, you can head through the "Chemin Colonie", or check out the "Chemin Mitchell" for a fantastic view of Antinouri Lake.
Start at Danny's or Atlantic Host
Go towards Madran through the DSLs (Dunlop, Robertville, Sormany, Nicolas Denys)
You can either take the "Chemin Colonie" trail, or the "Chemin Mitchel" for a fantastic view of Antinouri Lake.
Loop #2: Jacquet River Gorge
(1 day, including return trip)
Every great day on the trails starts with a great breakfast at your favourite local spot. Be sure to get up early – you might want to spend some extra R&R at this picturesque spot.
After leaving from Danny's or Atlantic Host, you'll want to head towards Nicholas Denys to get on the trail. Swing by the Arleau Brook, hang a right to "Chemin Sormany", and get on "Chemin Daniel".
[Jacquet River Gorge]
This trek finishes near the Super Village Trail Blazers snowmobile Club overlooking the Jacquet River Gorge. Pack your binoculars, camera, or soak it all in. It's simply majestic.
Start at Danny's or Atlantic Host
Go towards Nicolas-Denis where you'll hit the new trail
Swing by the Ruisseau Arleau
Take a right to Chemin Sormany
Get on Chemin Daniel
Finish at the Gorge
Loop #3: Island Lake Escape
(1 day, including return trip)
Note: This loop has some similarities with loop #2, but don't be fooled: it's an entirely different experience.
Leaving your quarters – head to Nicholas Denys – swing by Arleau Brook – but this time, instead of hanging a right to "Chemin Sormany", you take a left.
You'll then arrive at a local hot spot: Island Lake.
Many riders take on this loop to catch the sights of the local windmills and, of course, enjoy the trails and the lake itself. If you haven't had the chance to ride by windmills yet, you have to put it on your quad bucket list.
Start at Danny's or Atlantic Host
Go towards Nicolas-Denis where you'll hit the trail
Swing by the Ruisseau Arleau
Instead of taking a right towards Chemin Sormany, take a left
Get to your destination at Island Lake, where you'll see the impressive sights of the local windmills
Favourite "hidden" Quad Spot
Jacques' absolute favourite "hidden secret" -- one he's more than happy to share with visitors to the region -- is the impressive ruins of Sir James Dunn's "castle" in St. Sauveur.
Born in 1874 in the village of St. Peter's (an area that's now known as Bathurst), Sir James Dunn was a famous (and wealthy) industrialist and financier at the time. He would often travel to a luxurious retreat built around the Saint Sauveur area, a short distance from the Chaleur Region.
To Mr. Dunn, it was a simple retreat near his birthplace, where he could entertain guests and enjoy the peaceful northern New Brunswick lifestyle.
To the locals, it was a castle.
When James Dunn moved on, the retreat was taken over by locals to host lively Saturday night gatherings. A far cry from the high society parties of yore, but an excellent use for the space nonetheless.
Over time, and through lack of maintenance, the "castle" was eventually abandoned and stripped of its former glory.
The ruin of "Sir James Dunn's Castle" is now an impressive sight to behold, and a perfect spot to add to your Chaleur ATVing bucket list.

On the subject of quad adventures in the Chaleur Region

Jacques speaks very fondly of the quad trail system in northern New Brunswick, and especially in the Chaleur Region. The unique geography and the impressive quality of the trails are something that he is quick to mention to tourists and locals alike.
When we asked him why he thought the region's quad experience was so unique, he presented it to us this way:
"De la mer, jusqu'au coeur de la forêt...en 5 minutes!"
(From the sea to the middle of the forest, in only 5 minutes.)
He was also quick to point out that, thanks to a fantastic team of hard-working volunteers, a growing membership, and the support of Quad NB, quad enthusiasts reap the benefits and enjoy some of the best-groomed trails in Eastern Canada.
(Join Quad NB on Facebook for more information, questions, or if you'd like to map a day trip to any of Jacques' suggested destinations!)


Tips from the president of the Chaleur ATV Club
We also reached out to the president of the Chaleur ATV Club, Mr. Frederic Mallet-Boudreau, to get the low-down on what riding a quad in the Chaleur Region was all about.
The "Club VTT / Chaleur ATV Club" covers the entire territory, from St-Sauveur/Paquetville to Jacquet River, and manages and maintains the 400km+ of available trails.
As the largest quad club in the Atlantic Provinces, they also team up with municipalities (more on this later) and outfitters in the Chaleur region to complement the experience for locals and tourists alike.
We had a quick chat with Fred to pick his brain on the matter.


C: "Hi, Fred! Thanks for taking the time to chat with us. Can you start with an excellent tip for someone preparing to go on the Chaleur Region's quad trails?"
F: "Get ready to experience some fantastic trails and breathtaking scenery! You'll probably also want to bring a map with you, or even recruit a guide if it's your first time in the region."


C: "What are your go-to places for a bite to eat when you're out on your quad?"
F: "We have so many options in our region! Some of my favourites are the Trail Blazer Lodge in Jacquet River, the Atlantic Host Hotel and the Papa Joe & Evy's in downtown Bathurst. They're all easily accessible by quad!"


C: "How would you describe the Chaleur Region quad experience?"
F: "The back-country of our region provides us with hours and hours of trails and spots where you can relax and enjoy a night out or two. Seeing the impressive landscape while spending time out on the trails never ceases to amaze me."
C: "Do you have a favourite trail or landmark? Something a newcomer shouldn't miss out on?"

F: "I have two that come to mind. The trail that leads to the Jacquet River Gorge in Jacquet River, and the Bathurst trail with the ride leading along the coast of Grand-Anse towards Caraquet."
Be sure to touch base with the Chaleur ATV Club on Facebook if you're headed to the region. You'll be able to meet-up with locals and newcomers alike, make a few new friends and hit the trails in style.
Riding your quad in the city
Here's how you know you're in the company of fellow trail enthusiasts: when a city has a designated trail access to the downtown area.
Since June 1st, 2019, quads are allowed in designated areas of Bathurst. Perfect for easy access to hotels, gas or coffee, it also feeds directly into the heart of the downtown core.
Park your quad at one of the many designated parking spaces and enjoy everything downtown Bathurst has to offer: microbreweries, a top-notch filet mignon, gourmet pizza or even freshly roasted coffee.
If you have a sweet tooth, there's even an artisan candy store that offers quality that's unmatched in the region!